Although retirement communities have existed for nearly a century, the concept has continually changed and expand in recent years. Many retirement communities have developed unique specialties, niches, and offerings. They are not one-size-fits-all. Retirement communities offer surprising options and opportunities to their residents. They are vibrant places where people enjoy common interests, make connections, and receive the individualized support they need to retain their autonomy and enjoy their retirement.
Senior living options include age-targeted communities, where most residents are 55 or older, independent living retirement communities, assisted living, and more specialized or intensive support. Some retirement campuses offer a range of options so that residents can stay on their home campus as their needs change. Though the selling points of moving to senior living are as diverse as its residents, understanding the top advantages of a senior living community will help you know what to look for when finding the perfect fit for your retirement plans in Federal Way, Washington.
Benefits of Senior Living

As you look forward to the next stage of life, there are multiple reasons to consider transitioning to an active adult community near Federal Way, including:
1. A Close-Knit Community
When you live in a senior community, your neighbors will be individuals who are experiencing the same joys and challenges of this stage of life as you. They will have common interests and experiences that make it easy to develop friendships within the community. As loneliness and isolation can negatively affect your mental and physical health, this easy access to community and socialization will positively impact your overall sense of well-being and contentment. Plus, neighbors live in fairly close proximity, which means you can easily manage and enjoy these relationships every day.

2. Accessible Living Arrangements
Safe senior living is accessible living. Facilities and floor plans at active adult communities are designed with their patrons in mind. Your home or apartment unit is manageable in size but also designed with all the features and appliances you need for independent living, including a washer and dryer, full kitchen, and patio. Enjoy barrier-free restrooms and fixtures designed for easy operation. You also can choose single-level apartments with minimal steps to provide you optimal comfort and independence for years to come.
3. Maintenance-Free Exteriors
One of the most appealing aspects of residing in a senior living community is that your days of landscaping, mowing, weeding, shoveling snow, and painting are over. The community staff provides maintenance and upkeep for the grounds, relieving you of the responsibility and giving you more time to enjoy your hobbies and spend time with your friends and family. If you opt to spend time in the community garden, you enjoy the bliss of recreation as opposed to the drudgery of obligation.

4. Amenities and Activities
Active adult communities are geared toward fostering a sense of engagement by providing residents opportunities to stay active and socialize. Retirement community activities include a variety of indoor and outdoor amenities, such as walking paths, gardens, and exercise facilities, usually with classes for yoga, water aerobics, strength training, and some stretches/simple exercises as well.
Senior living amenities also include coordinated events and activities every day of the week. There are opportunities to play games, do arts and crafts, and learn something new. Also, you can share your interests and gifts with the community by organizing social events, clubs, or volunteer groups with other residents.
5. Transportation
Seniors on the go have engagements in the community. Another benefit of senior-living communities is convenient access to transportation. You don't need to keep and maintain a car unless you want to. The retirement facility's buses or vans will take you and other residents to various places throughout the week so you can run errands, attend church, or enjoy shopping, dining, and entertainment. Join group field trips to museums, movie theaters, art exhibits, and scenic drives around Washington. You can also schedule personal assisted transportation to medical centers and hospitals for doctors' appointments.
6. Safety and Security
Most senior-living communities are gated so they're only accessible to you and other residents, or to individuals who are granted permission by people living in the community. They also offer a greater sense of safety and security, with well-lit common areas, sidewalks, and parking lots; working fire alarms and smoke detectors, and clearly marked exit doors. Many independent living communities include non-intrusive wellness checks to ensure that you have assistance in the event of an emergency. Benefit from a tight-knit community because there are often people around during the day, and neighbors look out for one another.
7. A Peaceful Environment
Noisy neighbors, loud traffic, and other distractions are things of the past in your active adult community. While you are welcome to have your family over to visit, the people residing full-time in the community will be older adults who are excited to be surrounded by their peers and contribute to a quiet, peaceful environment. Peaceful does not mean boring though, as there are countless ways to participate in social events and activities
8. Convenient Location
While senior living communities provide dining and other resources and amenities on-site, they also are often conveniently located near shopping centers, medical offices, and other public facilities. You can enjoy prolonged autonomy and independence by having easy access to the facilities you visit regularly to accomplish daily tasks and errands.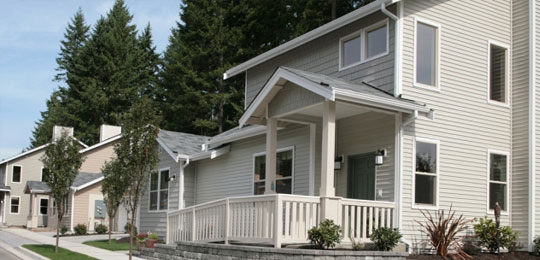 Active Senior Living at its Best
Senior Living Communities offer a unique living arrangement for seniors, allowing a maintenance-free, active and independent lifestyle. With its wealth of activities, amenities, and transportation, Village Green is a shining example of senior living in Federal Way. We can't wait to find the perfect place for you within our thriving community.